How to create a life that YOU love!
Let's face it, when you're not living the life of YOUR dreams, something's "off" in your spirit. This is because when we're raised in emotionally unhealthy environments we can end up living a life that is not our own. Maybe you live out a parent's dream. Perhaps you live a life society sold to you as the "right" life, maybe you never thought about the type of life you wanted and took some job to pay bills and find out you're stuck. Relationship problem? Maybe you jumped into the first relationship that appear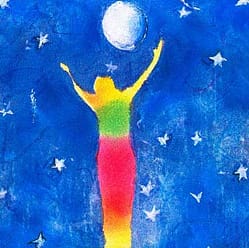 ed and now something doesn't fit!
If you are lucky enough to be raised in an emotionally healthy and loving environment your gifts are sacred, your truth is honored, and you are respected. This doesn't happen very often. Thus, we often pay the price in acting out of these old paradigms. However, there's an approach that can change your life.
By using personal life experiences consciously as the guideposts to your personal development of conscious living.
Each one of of carries the UNLIMITED POTENTIAL for transforming our lives. We can start today and move toward our dreams. Yet, because we have a "crossed wire" we get frustrated and stymied in our search for our personal goals- if we even know what they are. Take a moment and ask: In this moment, how are you making use of the life opportunities you've been presented?
Many of us don't realize we have this power for change. Or, worse yet, we know that we are capable of wondrous things but believe that experience is outside our comfort zone/ So our dreams lie there withering on the vine.
Consider this- until right now, did you realize you've been using your life power unconsciously to create the life you live?
If your life is presently tilted towards stress and ill-health, you have a choice: you can use your life-power to create work-life balance, financial abundance, emotional comfort, and great relationships by using the lessons you receive or you can embrace the experience of social anxiety,  depression, bad relationships, ill-health and other maladies.
Do you love and respect your being? Does loving yourself seem like a strange and unrealistic concept? Is radical forgiveness of others and yourself a part of your life, or do you hold onto anger and frustration? Are you going to eliminate self-sabotage so that you can move forward? If you are ready to change, it's through a personal growth plan that can start today.
There are tools for all types of change, let's look at some that we use to help resolve conflicts and to grow in our consciousness.

Ask yourself this question:  Is the family system you're part of healthy and was the family of origin you grew up in healthy, encouraging, vital and supportive? For most people the answer is "no."  Family of origin systems are often broken by unconsciousness and can only be rebuilt through the use of consciousness- in many cases using family therapy.
The kindness lessons we can share with each other include the use of positive psychology and personal goal setting for how you want to live your life- today. If you are dealing with a dysfunctional system now, it most likely had its roots in your family when you were younger and until you solve some of those issues in the family system today- whether that system exists as an individual, couple, or family; it is a painful experience. Luckily, there are tools for transformation and personal growth that help. When consciousness and/or therapy, or even random kindness is used to create a new life- you begin to live in consciousness and without the drama of your family of origin. Emotionally healthy families thrive on the connection of love. Emotionally unhealthy families suffer in dysfunction when unresolved issues exist in individuals and family of origin members. Then, you have a family that merely exists instead of thriving on connection.
We always have the power for change in our personal development.  Yet, how do most people use this potential? They waste their lives in worry, stress, conflict, and emotional pain. Why do they (you) live this way? Because their subconscious programming learned within the family of origin instills unquestioned negative beliefs about themselves and these beliefs, if left unchecked and unexamined run your show. People will try desperately to change yet despite their attempts to move forward by using will-power, they exist in struggle. Change does not happen when willed; permanent change happens at the unconscious level.
The secret to your change is to find a way into your subconscious that unlocks your potential so that you can move forward!
We have developed tools that can help. Hypnosis and brainwave entrainment reset unconscious roadblocks from your past. Consider your dreams around love and relationships.  We are asked, "How do I find love again?" or "How do I find my love?" The answer ALWAYS begins when you start becoming conscious of who you are and the strengths and the sensitivities that you bring to the experience. It's okay to leave blame and shame of your family of origin behind.
There is an easy way to begin change and that starts with becoming conscious of your unconscious roadblocks and removing them forever!
How important is this? Well, it's so important to me that I wrote a book about how life improves with these changes!
Becoming conscious is how you transform your life from the unconscious experience you learned from your family and which society encourages to the power of consciousness, mindfulness, and awareness. Think about all of the people living a painful life of quiet desperation. They don't see abundance, love or connection; they live in the unconscious. Consider living the opposite- living a conscious life, loving abundance in your job, finances and love. Each of these experiences flow from you rather than being things you chase to fill emptiness.
For this type of personal development, you need to change.  HOW DO YOU FIND The Motivation to Change?
What finally motivates people to change? Inspiration or desperation! You will change because on some level you are suffering or your are motivated! Maybe you want love in your life. Maybe you want to get healthy (physically, spiritually and/or emotionally), or maybe you're financially broke and want more for your life. These are all great catalysts for change….but…..Without knowing yourself first…. you are lost.   You'll take action, but it won't be the action that comes from your center to bring you closer to your dreams. And, when you're lost- there's no way you can create a great life.
Some of you will get inspired by the 3 things that really matter in life:
1. Love– connection with yourself and your loved ones.
2. Health– without it, everything becomes more difficult.
3. Abundance– safety, to know that you're okay in the world.
So the question is, how do you MAXIMIZE and ACTUALIZE YOUR POTENTIAL?
Research, religion and philosophy know that self-awareness is the key to abundance and success! 
Ask yourself-Am I living consciously or unconsciously? Am I living the life that I want?
Are ready to own your greatness? Are ready to let go of what isn't working and are finally ready to change your beliefs?
If so, you can create the life you want. Do you desire a real relationship based on who you are, not some "show" you put on for others so they'll "accept" your shadow being? Are you ready to take years off your quest for happiness, love and abundance? Are you ready to get our of your own way? Are you ready for massive change? Are you ready to give up excuses? If you are, you're ready to work with me!
Before change can start, you have to open up to a new way of believing and living to Maximize Your Potential are you willing to:
Leave living small behind and embrace a bigger vision of your life.
Learn how to take action on your vision.
Create a loving relationship.
Learn to let go of others holding you back.
Take responsibility for your life.
Live with happiness and joy in your life not worry and stress.
Do any of the following statements fit you? If so, my coaching will help you!
You come from a family that did not support you?
Whenever you embrace who you are, your family judges or ostracizes you out of their fear?
You grew up in a family that played favorites or did not know how to love?
You want/need to perform at a high level.
You want a loving relationship.
You want to experience more happiness, peace and contentment.
You want a deeper connection with your family.
You feel like something is holding you back from your greatness.
You have tried "will power" or other programs that don't work.
You are tired of doing the same old thing and getting the same results.
You have lost your enthusiasm and know there's something better "out there."
You have trouble sleeping at night or staying awake during the day.
You can't seem to get motivated.
You don't know where to start or even where to go in life–you're stuck.
You want to be living a fantastic life, but don't know how.
You want a great career, loving relationship, good health, and abundant finances.
You want to be living authentically, but are scared or are not sure how to.
You want to be more organized, disciplined, goal-oriented, and successful.
You want more self-confidence.
You want to speak in public with more charisma.
What does it mean when you Maximize Your Potential? 


You remove: Excuses, Complaining & Limiting Beliefs From Your Life. Then:
You'll change! We have years of experience helping people to perform at their highest level.
You'll embrace your unique skills! Our clients like you have already changed their lives. You can too!
You'll stop wasting time listening to all the reasons you can't succeed and remove roadblocks in your way.
You'll learn powerful transformation processes with the unique combination of traditional and energetic/intuitive coaching.
You'll get use of groundbreaking technologies as part of the change process.
You'll discover your truth and live with peace and contentment!
You'll discover healthy ways to connect with loved ones! You'll reconnect with your family!
You'll benefit from business experience (I've been CEO of two successful companies).
You'll learn self-motivation and sports performance. And, you will live an amazingly powerful and vital life!
What do you have to lose, except old excuses for living an unfulfilled life!